25 October - The Big Day!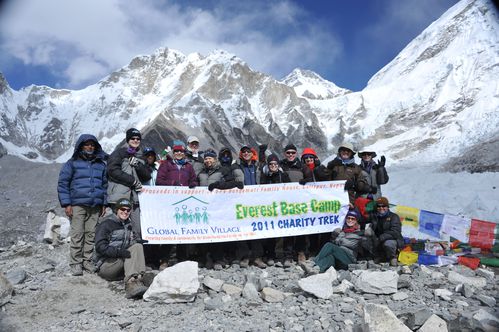 This was a major hiking day--starting at 7:30 from Lobuche, we walked along the massive Khumbu Glacier. The mountains seemed incredibly close, so clear is the air here. We started the hard climbing at about 8:30 or so, and as always, we walked in slow motion, putting one foot in front of the other--as you have to do at this altitude.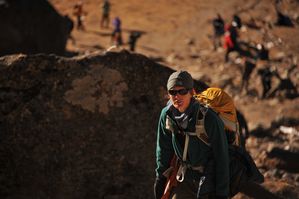 ( With reduced oxygen, everything is an exertion.) Judy, one of the trekkers, took a video of us: she said that people would not believe how slowly we moved! At ten we reached Gorak Shep, which is not even a village, just several "guest lodges," some solar panels, and lots of yaks. After lunch we hiked to our main destination --Everest Base Camp, about 2 hours from Gorak Shep.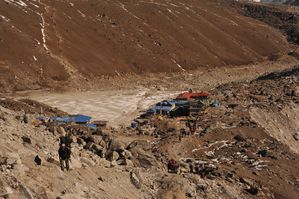 At the Base Camp, you can't actually see Everest; you must watch for it on your way to and from the Camp. It's the big one with relatively little snow (it's been blown off), and a huge wind plume coming from the peak.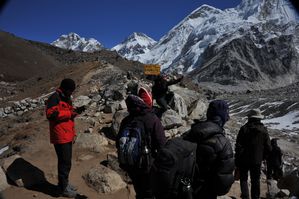 At the Base Camp, we took pictures of ourselves holding the Global Family Village Banner and congratulated ourselves, but clouds were moving in and we had to leave after half an hour.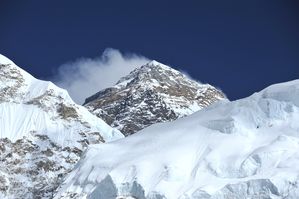 As we were leavng, we heard a distant rumble--an avalanche, which appeared as just a puff of mist on a mountain flank.
To see more photos of Gorek Shep and reaching Everest Base Camp