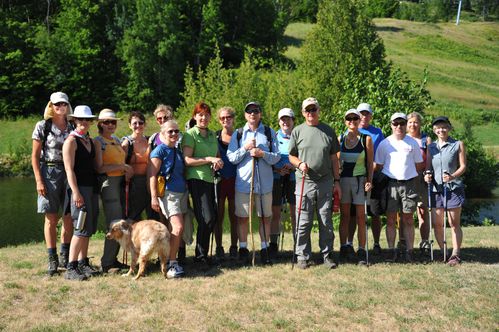 The humidity has subsided, another perfect summer day, it is Saturday. We have driven like maniacs to Calabogie which seems further away than anyone expected or at least, can remember.
Our biggest crowd yet, 16 people. Newcomers, Arnold, Liz and Tammy were warmly welcomed.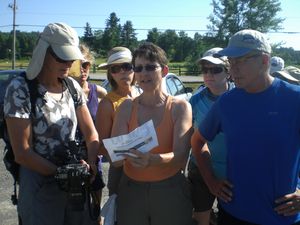 Great to have Becky, Denis and Marie Christine back with us. Liz has not missed a single hike. Clearly her love of hiking and last year's memories of Everest Base Camp has endeared her to our group.
After a brief discussion about...well I'm not sure about what, but clearly Arlene knows what is going on so we default to her experience and expertise.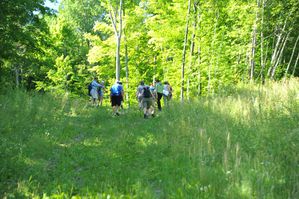 Behind the resort a lovely grassy trail heads up, so that is our path. It is a very simple formula, we look for a path that goes up. Then we follow that path and meander our way to the top.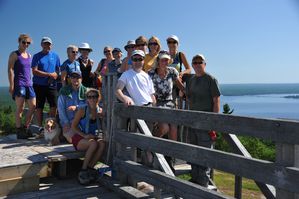 The summit photo looks like everyone has just enjoyed a walk in the park but really, climbing a mountain twice is really a challenge.
When you climb up and down a mountain, no matter how high, it takes a lot of fortitude to turn around and do it again.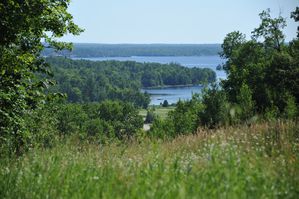 The 200 vertical meters (a fifth of a kilometer) are noticeable...especially the second time up!
But you can't help but appreciate the stunning beauty of the surroundings.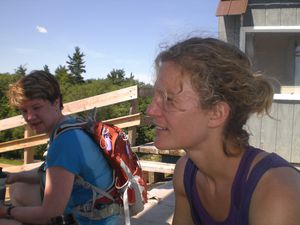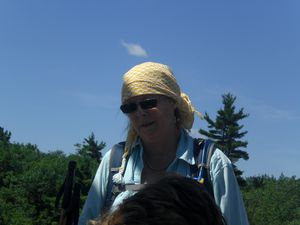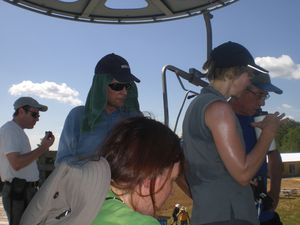 We huddle under the shade from the chairlift mechanism and immerse ourselves in the panoramas around us.
We are totally motivated by the reason for doing this, the children of Global Family Village.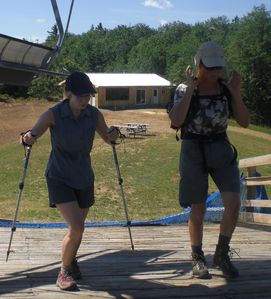 They have no one.
They are really dependent on us to help them.
We want to help them have a stable, loving family to grow up in so that they will be able to become contributing adults in their society.
If you would like to make a contribution to our effort to raise money, please do so here. We are so grateful for your support.
Walking down Racket and Liesha lead the way. The rewards in the parking lot probably enticed them to the end.
Our effort is rewarded by Denis' homemade sausages. What a treat!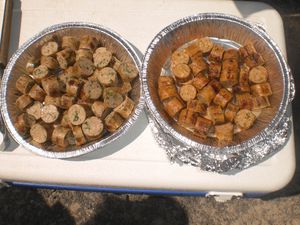 Another celebratory "boot party" with water mellon and "to die for" sausages. This is the trek you WANT to be a part of.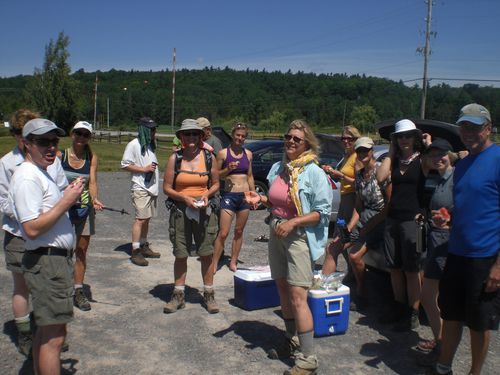 Check Calabogie off the list, tomorrow, Mont Ste. Marie, here we come.