Brutal, there is just no other way to describe it BRUUUUUUTAL!!! You might ask "why?" or say "you all really need to get your heads examined", both question and comment would be reasonable when a group of people decide to hike up a mountain...twice, when the starting temperature at six in the evening is 36C!!!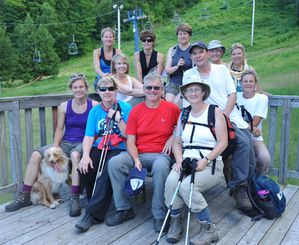 But, dedicated and optimistic we are as we pose for our pre-hike photo before heading up Skyline to the top of Camp Fortune. Never far from our minds is the reason why we are training so hard and the challenge that lies ahead, walking to Everest Base Camp for the children of Global Family Village.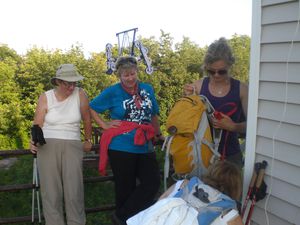 Imagine how impressed we were that Chris and Louise chose this day to hike with us. Bravo ladies!
The black flies, who really should be dead in the staggering heat (aren't they supposed to be dead and gone by the end of June?) were omnipresent, seconded only by the relentless buzzing and biting of horse flies, who really also should be dead from the heat.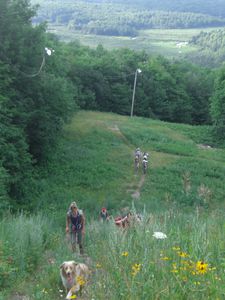 We gave a small prayer of thanks to the fact that the mosquitoes were obviously dead because we saw nary one.
It is difficult to describe this hike as anything but a "grunt". The hill is steep and the footing less than perfect as your boot skids out on the small round pebbles, akin to walking on marbles.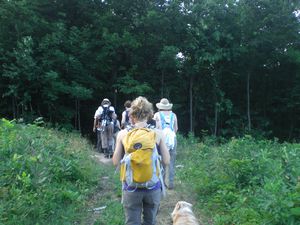 We followed a trail that looked like a mountain bike track into and out of the woods.
Despite the the heat and the hill, when you persevere you always get to the top and in spite of the irritating bugs there were smiles all around as we sought out a bit of shade and reveled in the breeze.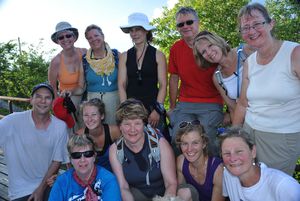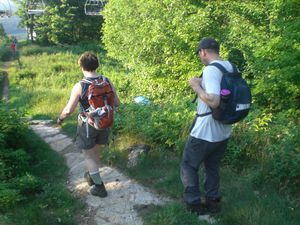 The way down was tricky as there were some steep ramps that we negotiated carefully not wanting to contemplate an injury, which might require being on the hill longer than necessary.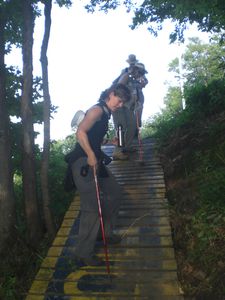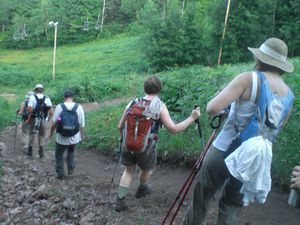 All completed the two climbs safely and we headed over to Meech Lake for a swim after the water-mellon. Despite the heat a quick look around let us appreciate how lucky we are to live in such a beautiful place.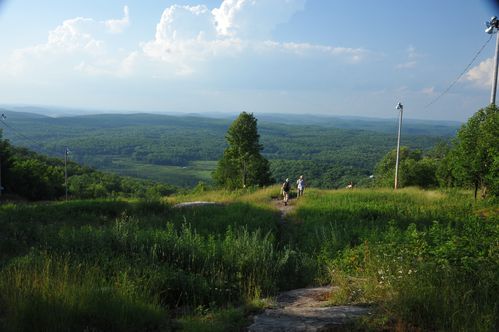 (See more photos here.)