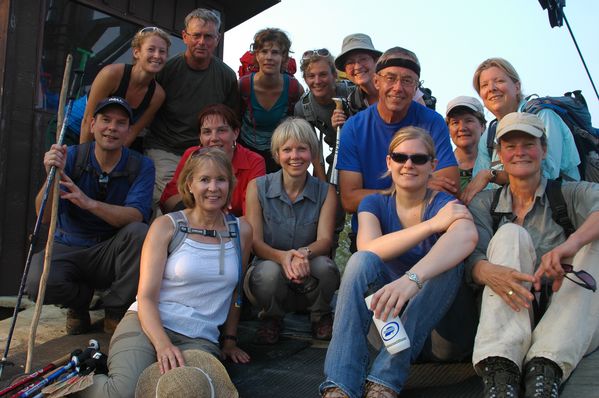 L->R Front: Wendy, Nynke, Anda
Middle: Jamie, (Maire Christine), Becky, Denis, Judy
Back: Tanya, Barry, Lisa, Liesha, Arlene, (Liz)
Missing: Jen
Two months from today the incredible adventure begins. But for more than six months this great team of 13 enthusiastic hikers has been working hard to train themselves physically as well as raise $19,500 for GLOBAL FAMILY VILLAGE, an NGO that creates family-centered, community-based care homes for ophaned and abondoned children in Nepal.
Around mid October the team arrives in Kathmandu via different itineraries spanning several days. They will stoll the narrow streets of Thamel poking through treasures and tourist kitsch in the tiny shops, finding souvenirs and last minute trekking "must haves". They may try the Nepal staple food of Dal Bhat (rice with lentil soup & pickles) as they revel in the riot of sounds, savor the smells and take in the kaleidoscope of colours in the street markets.
The trek to Everest Base Camp (EBC) trek is really about pushing to new "heights"; believing you can do it and then focusing all your mental and physical will to get there. Just to understand how high they will be climbing, think about walking five and a half kilometers non-stop at sea level on flat ground. It would take about an hour and a half for an averagely fit person. Now think about climbing that same distance straight up with the oxygen at the top being half the amount available at the bottom. Of course, the distance the team will be travelling is much farther, along pathways that forever have carried people and their goods from lower altitudes to the high mountain villages and beyond, to the peaks of the highest mountains in the world. This challenge will take 12 days, walking very slowly to 5,500m while acclimatizing along the way, and then walking out. It is an experience that defies description as it assaults all the senses, even words are humbled in the presence of these giants.
Next week, EIGHT WEEKS TO GO...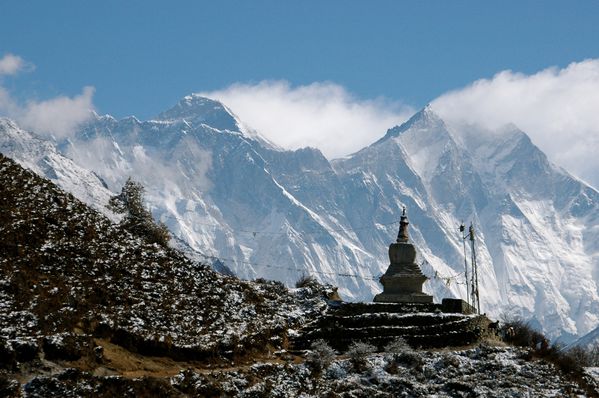 First glimpse of Everest (behind the ridge, left of center) from above Namche Bazaar.