16 October - In the Village of the Rice Goddess
It was the first day on the job for the GVF Trek Logkeeper, and he got enough of Katmandu's sights, tastes, sounds and smells to last him for a long time to come. The whole GFV Trek team is here now, and we got up at seven-thirty or so for an excellent breakfast at the Pumpernickel restaurant and then boarded the bus to visit the Global Family Village Bungamati Family House in the village of Bungamati. The bus trip was a plunge into the usual lively honking chaos of Kathamadu traffic, with distinctive sights on every block—such as a monkey scampering along the fright-wig cluster of wires that runs above the street.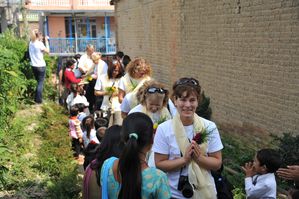 At the family centre, all the children were out to meet us, dressed in their uniforms of white and grey; the reception was one of those moments that can't really be captured in words. Two-year olds from GFV's Early Chldhood Development program were there as well as kids from the school; they gave us flowers as well as the traditional Khata welcome scarves of Nepal. We got a tour of the school and learned about the life-changing work that the school is doing in concert with the Cooperative Society of Bungamati.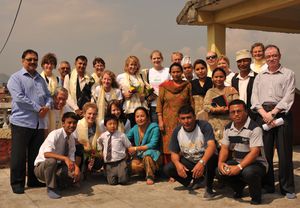 Then came a superb lunch of rice, dahl, beans, chicken and a spicy pickle sauce which the Logkeeper could not get enough of. The school is set in a small village surrounded by rice terraces and (in the distance) smoky blue mountains. After lunch we went for a walk down the narrow streets of the village to see the wonderful wood carvings for which Bungamati is famous. Not only were the carvings a treat for the eye; many were as aromatic as spring, being carved out of camphor tree wood. Trekker Nynke got to polish her haggling skills and ended up with a marvelously carved elephant while Liesha snapped up an intricately carved jug with top with the assistance of our hosts. An amazing day… and it's not over yet!
See photos of our day at GFV and Bungamati Village