Talented Trekker -House Concert for Global Family Village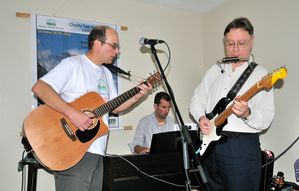 This Saturday past (September 24th), the strains of such classics as "Fire and Rain," "House of the Rising Sun," and "Charlie Fox Put on his Socks" (old tune, new words) could be heard rising from Liesha Mayo-Bruinsma's house in Ottawa. Liesha had volunteered to host the Global Family Village house concert, the latest in our series of fund-raising events to collect pledges for the Everest Base Camp Trek (coming up in a few short weeks!).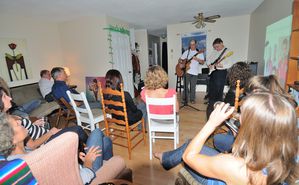 The band was... well, let's just call them the Band... no, wait, that name's been taken. Let's just say that the musicians were Frank "Fire and Brimstone" Burke on electric guitar, mandolin and harmonica; Paul "Funkmeister" Hooper on keyboards; and D. Jamieson "Jamie" Findlay on acoustic guitar. The group had a rousing good time and really appreciated support from friends and family. As for the crowd, their enthusiasm never waned even when the band mislaid a lyric or two in mid-song, or pretended not to hear shouted requests. (Note to band: learn the words to "Loch Lomond"—and not the James Brown version, either, but a nice mellow Stan Rogers-style treatment!) Nine-year-old Bella Bruinsma wowed the crowd between sets with some impromptu vocal magic.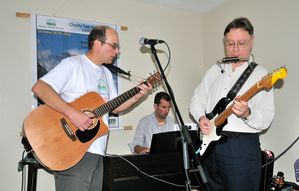 Thanks to Ivan Petrov for capturing the spectacle in pictures and video, and to Liesha for organizing everything. Almost $500 was raised in donations, which will go straight to GFV. The band was so inspired by the evening that they've decided to return to the task of finding a name, when they get around to it!