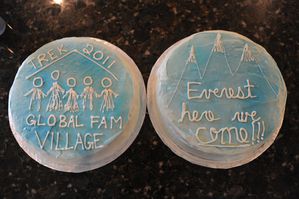 The rugged banks of the Ottawa River, just beginning to blush with fall colours, was perfect. Counting down to the trek...on September 25, we all came together for the first time...and the last before we gather in Kathmandu in the second week of October, to meet and eat.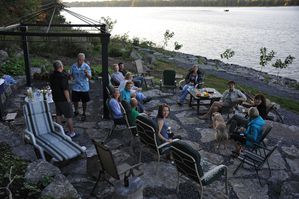 After nine months of hard work training and raising money for Global Family Village, the whole 2011 GFV Everest Base Camp Trek Team got together to have a BBQ and "chill", share learning, experience, rumors, advice, urban legends and generally get to know eachother.
Nynke, aptly supported by Ty, cooked up a wicked mixed grill of burgers, chicken and sausages. Her cake decorating skills were tested but passed with no question when she turned out two magnificent "send off" cakes. Salads, mamosas, amazing crepes (thanks to Judy) with raspberries and drizzled with chocolate added to the feast.
We toasted our effort and achievements so far, but most importantly, we toasted our success in reaching Everest Base Camp. We are looking forward to being hosted the Global Family Village Family House in Bungamati, meeting the people and visiting the village.

We're nearly on our way, stay tuned for the "step-by-step; breath-by-breath"updates of our progress.