We Have Arrived in Kathmandu!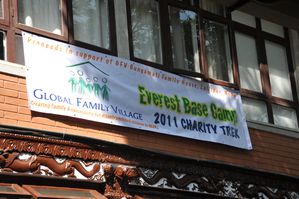 After eight months of training and fund raising the dream is materializing into a reality. The trek participants en route from Ottawa, all straggle in from far-flung places (Beijing, Hong Kong, Mumbai, New Delphi) following days of travel, to that exotic and far away city. Kathmandu, cradled in a magnificent valley at the feet of the highest peaks in the world, the place of legend and lore, where ancient beliefs and traditions compete to survive amid the mad rush of development and modernization. Navigating through chaotic arrivals at the Tribhuvan International Airport the trekkers are rescued by a smiling and friendly representative from Himalayan Holidays.
Denis is the first to arrive on the 12th after a ten hour lay over in Frankfurt and is "chilling" at the Kathmandu Guest House (KGH), smack in the middle of Thamel, the happening area in the heart of the city. Arlene, Lisa, Barry and Anda follow, arriving the evening of the 13th, from Hong Kong, followed a couple of hours later by Wendy. Sadly aggressive bag carriers take advantage of Wendy, who is defenseless against their onslaught. We call it a learning moment! Be assertive and always remember that "tipping is an option" and at your discretion, despite what they may tell you! Don't let anyone assist with your bags.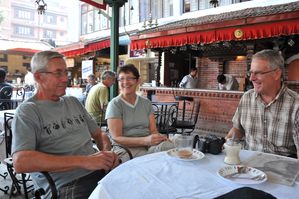 The ride from the airport to the city is still a harrowing experience, with cars, motor bikes, vans, taxis, bicycle rickshaws, bicycles, push carts, animals and people all vying for room on the narrow twisting streets of the city which were never meant to accommodate this diversity of transport. Remarkably, from the chaos and pandemonium all forms of transport seem to emerge, largely unscathed and presumably on course to their destinations. The dim light streaming from tiny shops that line the streets is the only illumination as streetlights are noticeably absent. The Kathmandu Guest House is legendary, an oasis from the madness. Secure with guards and a three-meter tall iron gate, the hotel is set back from the road by a long driveway and was originally a palace, though several wings have been added. The colonial-style architecture combined with traditional decor and beautiful Buddha garden has made KGH a home away from home for travelers for decades. Uttam welcomes us and enthusiastically agrees to hang our banner across the entrance of the hotel, so all can see who we are and what we are doing.