Report June 2011 - GFV Nepal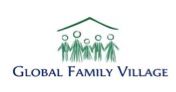 Namaste Friends!
Thank you for your support of Global Family Village. We are proud to submit this progress update. As you know, our mission is to help disenfranchised children reach their full potential through family-centered, community based homes; thereby thriving and becoming productive members of their society. To accomplish this mission we must create and prove our sustainable community-based model. We are very pleased to report that great progress has been made these past few months.
COMMUNITY PARTNERSHIP AGREEMENTS
We are proud to announce a most significant event towards reaching our goal of a sustainable community program. On June 3rd, Global Family Village-Nepal signed a partnership agreement with the Cooperative Society of Bungamati (CSB), Bungamati, Village, Nepal. This is the threshold culmination of all our efforts since moving to Bungamati over a year ago.
The agreement acknowledges that the Global Family Village model and Early Childhood Development (ECD) program are a community-based activity to be "owned" and run by the cooperative, with assistance and support from GFV for 5-7 years or until fully sustainable.
EARLY CHILDHOOD DEVELOPMENT (ECD) PROGRAM
Our ECD program is filled to capacity with 42 children, ranging from 2 1/2 to 4 1/2 years old. We have three teachers, 3 helpers and 3-5 on-going volunteers. We are continuing todemonstrate the importance of learning-by-doing and creative skill development rather than the rigorous rote learning long accepted in the local community. Teachers, volunteers and ECD experts continue to meet regularly for training and planning sessions.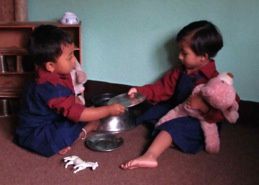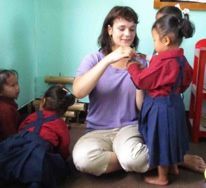 Playing House Volunteer assisting child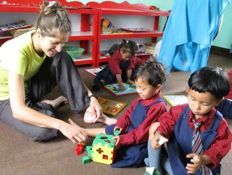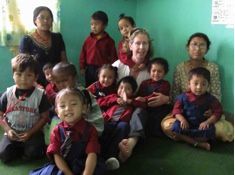 Volunteer with preschoolers making puzzles Volunteer & friends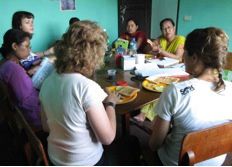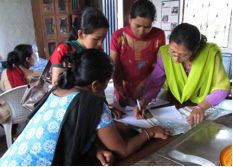 Teachers, volunteers & ECD expert, Krishna Sundari Teachers reviewing lesson plans
It is projected that by early July 2011 the ECD Program will have moved into classrooms within the Tri-Ratna School complex, right next door to the Bungamati Family House. (Photos 7&8) All teachers, helpers, students, furniture and supplies will leave Bungamati House. It will be more convenient to have all the education components together. Over the next few weeks the necessary renovation to prepare the space will be completed.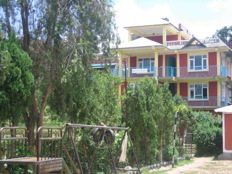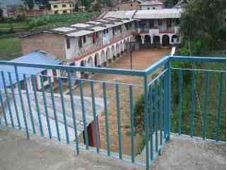 Bungamati House viewed from school playground School viewed from Bungamati House balcony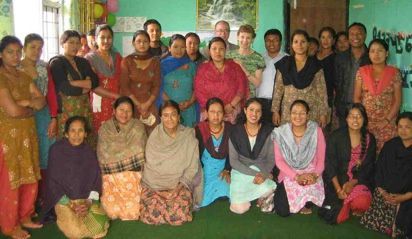 Parent Community Meeting
Even though it was planting season, over 20 parents responded to our call for a community meeting. Since previously reticent parents expressed satisfaction with our "learning-by-doing" (verses rote) instruction methods, we used this opportunity to introduce the concept and significance of parent participation. Many parents are illiterate and had no understanding of their importance nor how they could be involved. Together, we talked about helping by telling stories, listening to children, overseeing activities, making snacks, cleaning after class, and involving school talk at home ¬– thereby feeling program ownership and pride. They were so proud to take this picture with us for this Update!
THE BUNGAMATI FAMILY HOUSE
Our lodging plans for the Bungamati families are progressing well. The ECD program will be moved to the school building next door to the house, there will be sufficient room in the house for 3 families.
An initiative of identifying and interviewing is underway to find suitable "caregiver mothers" while significant effort is being put into identifying children who are eligible to become part of the family. The "caregivier mothers" will begin specialized training to ensure that they understand their responsibilities in raising the children in their care and are capable and committed to the task.
Part of the money raised through this trek will fund the "Caregiver Mothers" salaries ($150/month for salary, including all benefits). We are also seeking funds to support renovation for the preschool classrooms and play area.
Thanks so much for your support of the children of Nepal, and the implementation of our model of care. We believe that the children will benefit from being part of a supportive family and community and will help them grow into contributing members of their society.
Please visit us, on the website (www.globalfamilyvillage.org) or in Nepal!
We are grateful for your ongoing support. Namaste!