Welcome to Global Family Village Everest Trek 2011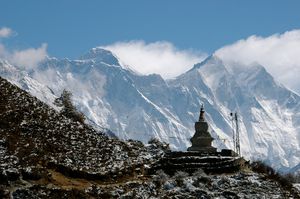 If you are reading this I hope you will be interested in participating, supporting or just observing the progress of our committed group of people determined to reach Everest Base Camp in October 2011. This personal challenge is paired with our commitment to raise thousands of dollars for Global Family Village which supports Nepalese orphaned and abandoned children new and innovatibe care model. link If you would like to support us please click on the link and make a contribution through PayPal.
My name is Anda Bruinsma. I have been active in hiking and mountain climbing since I began to walk. From my mother's Sunday family walks that everyone had to participate in I have walked trails and paths all over the world. However, I lost my heart to the wonderful people of Nepal in 1998. In subsequent visits I became increasingly disturbed by the plight of the children there. Having worked in various capacities for the last five years with the founder of Global Family Village, I am now on the Board of Directors and am making a personal commitment to raising funds to help the children that no one wants in Nepal.
Providing a loving family and a caring supportive community for these orphaned and abandoned children to grow up in will help them value themselves and give them the opportunity to become contributing adults, rather than prey in the booming sex trade on the sub-continent.