6 Peaks - Mont Ste Marie...the Finale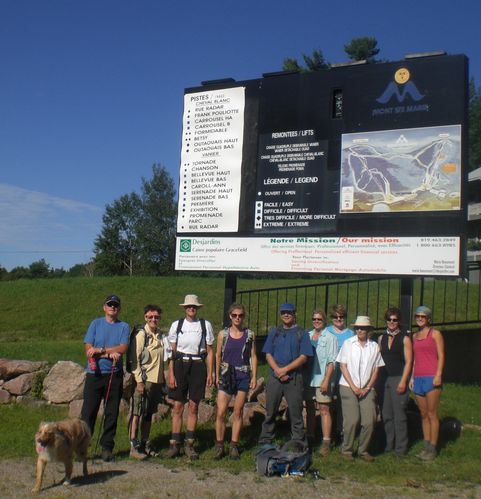 Here we are at Mont Ste Marie for the finale of the 6 Peaks in 6 Days challenge. And challenge it is as this mountain soars 381 meters, more than twice as high as most of the previous hills we climbed this week. However, the weather is absolutely perfect so we can't miss. Well...so long as we can decide which way to go.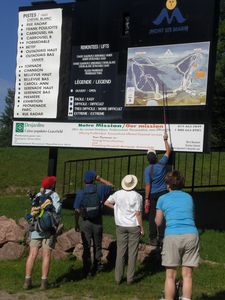 Barry takes charge immediately pointing out the obvious route to anyone who is interested, the Radar Road. Making sure that they get it he tests them.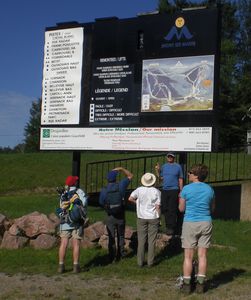 The road is obvious and starts out sharply to the right past some chalets and then climbs up curving to the left and crosses over all the ski runs as it circles up to the radar tower.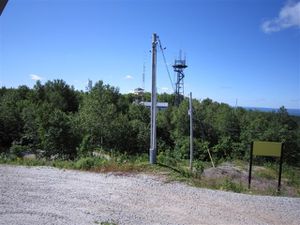 From the radar tower we can see a pegoda in the distance which we decide will be the destination for the second ascent.
Arlene has had to stop a couple of times to manage blisters and at the top we fully appreciate the severity of her problem.

Removing a blister bandage she pulls the entire blister off leaving a raw open wound on her heel.
Judy and Liz come to the rescue with various bandages and Anda wraps her whole heel in paper tape so she can descend.

Unfortunately the injury doesn't allow her to make the second ascent. She has committed to coming back and doing it when her heel mends.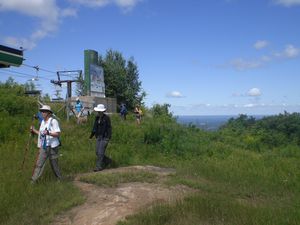 Deciding to look for another way down we veer off the road and end up a the top of a chair lift. A path appears to head down but similar to our split group on the uphill climb at Camp Fortune, we split in two and one group heads down under the chair and to the left, the other to the right.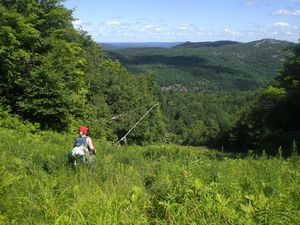 Both groups end up bush whacking the whole way down through chest high grass and shrubs. Luckily, from time to time, we are rewarded with raspberries but we are constantly immersed in a beautiful panorama of landscape with lakes, hills and a big blue sky.
On the second ascent we make it to the pagoda and enjoy the shade and the view.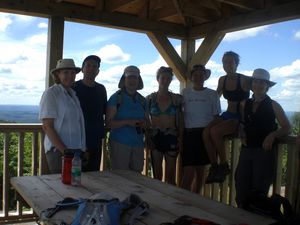 This time we decide to stick to the road on the way down. No more bush whacking! It is a great walk, the double ascent and descent took about 4.5 hours total.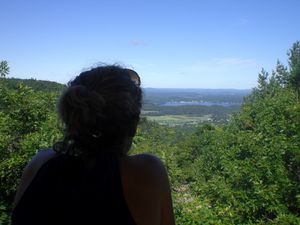 No one was too much worse for the wear, we are proud of our accomplishment. In 6 days we climbed 2480 vertical meters equal to the vertical distance we will climb to get to Everest Base Camp.
It will, of course, be more difficult in Nepal because we are dealing with altitude and lack of oxygen in the air.
We enjoy a great picnic lunch when we finally finish and toast to our success with champagne and raspberries.

A fantastic time was had by all.
We are committed to this effort and know that we can make a difference for the orphan children of Global Family Village. Global Family Village supports family-centered, community-based care for orphaned and abandoned children in Nepal. It costs $75,000 to support a family of eight children, a caregiver Mother and helper for 3 years. Please help us provide care for these children so they have a chance to grow up and be productive contributing members of their communities.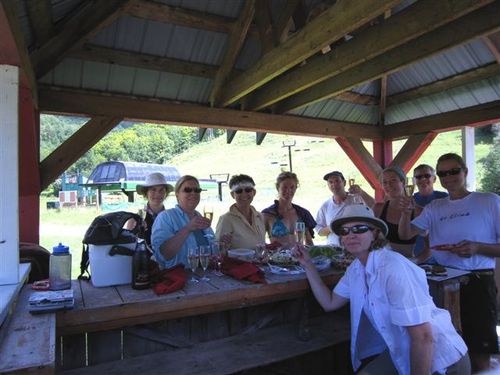 Your sponsorship will make a difference. Any amount is greatly appreciated. Please press this "Donate" button or go online to Global Family Village. After entering your donation amount and details, press enter and the confirmation page will allow you to indicate Trek 2011. Thank you, thank you, thank you.
(See more pictures of Mont Ste Marie hike here.)